I think the freebie is finished but I'm so tired I could be delirious and linking to an empty file. Hope not. Here's what it's supposed to have in it. You'll never have to look for another safety pin again...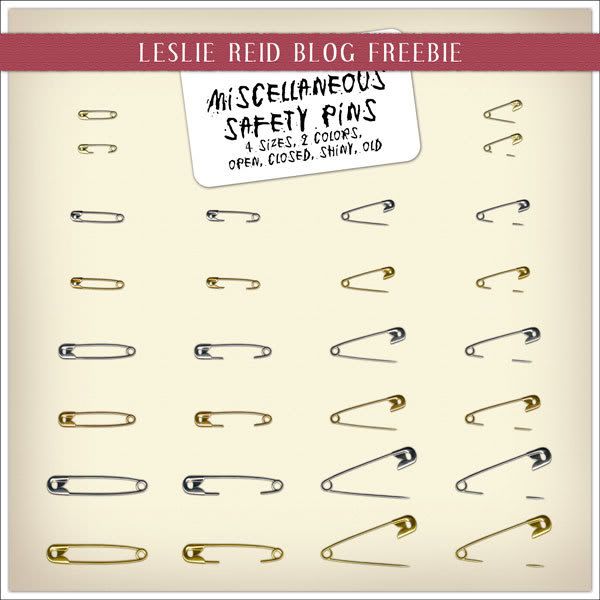 Download
here
.
[Note: some pins in preview may look a bit wonky but they don't look like that in .png file.]

[download expired]

As for Collin, he still has a high fever with headache and dizziness. Usually when he's sick he just sleeps on the couch. Today, however, he needed me about every five minutes. No, I
exaggerate
. Every ten minutes.
We saw his doctor for strep and flu tests. They were both negative.
I need to remember to cancel my hair appointment in the morning. Does anyone want to call me and remind me? Unless Collin could go sleep on a massage table somewhere while I get my hair done! I doubt that they would go for that.
My husband keeps calling to see how we're doing. He also keeps mentioning how great the weather is in San Diego. I think he said it was 75F today. It was about 60F here, though, so not too bad.
Obviously my secret painting mission got canceled when Collin got sick. Now I'll just have to do it right in front of my husband's face somehow but you know I'll at least start while he's at work. That way I'll have a lot done by the time he knows what's happening,
lol
. I've learned a few things in thirteen years of marriage.
Okay, I'm exhausted. Tomorrow will be more of the same. If you stayed away from fevers, good for you. If you didn't, drink lots of water!