Thanks to everyone leaving comments! They're fun to read and it's nice to hear that the word art is appreciated.
As for the question about how Cambryn got her name, I found it in a baby name book. It means
crooked hill
in Welsh. I have some Welsh ancestory, my husband's seen a crooked hill before, it just all fit together.
Now then. I do have a son and I've been working on a particular layout of him forever. Every once in awhile on the digital scrap boards someone new will post the question "How long does it take you to finish a layout?" Well, the following layout should make everybody feel better about himself because I started it in November.
I've changed kits several times, I've created new alphas only to delete them, I've rearranged over and over and over, all because I wanted to fit so much onto the page even though I don't do well with clutter.
So here is my labor of love (or insanity).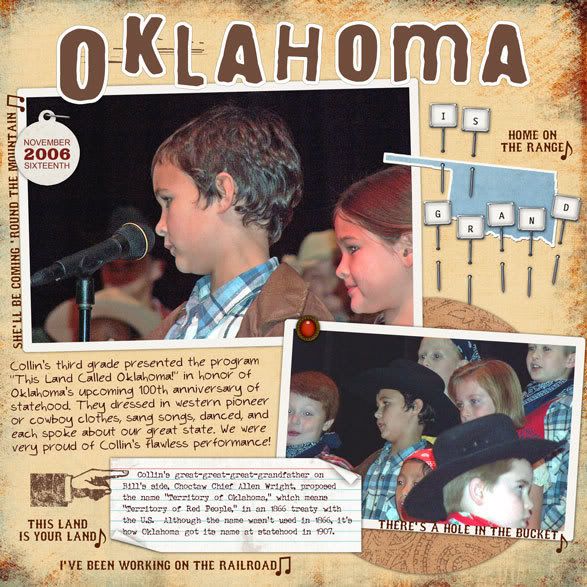 Collin's great-great-great-grandfather on Bill's side, Choctaw Chief Allen Wright, proposed the name "Territory of Oklahoma," which means "Territory of Red People," in an 1866 treaty with the U.S. Although the name wasn't used in 1866, it's how Oklahoma got its name at statehood in 1907.
Click image to view larger.
Credits found
here
.
Oh, guess who'll be out of town for three nights very soon. I may be painting again, lol. This is a long trip for him! He likes to sleep in his own bed so unless he goes to either coast, he's usually back the same day.
So what I'm saying is that almost four days without him only happens about once a year. And that's about how long it would take me to paint the formal living room.
I'm just saying.
Anyway, it's very very late (early) so I'm going to bed now. Happy Hump Day!